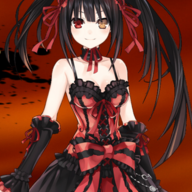 Joined

Feb 2, 2023
Messages

27
Reaction score

12
Bonsoir!

For some people that know me from another place (Worstgen) my ava and my nickname should give you a tiny hint of who I am already. For the other people I think I should properly introduce myself: My name is Yvonne, 27 years old now and I´m from Germany (Bavaria to be a bit more specific). I won´t lie, I´m mostly here to take a look at the Mafia section but maybe I´ll find myself becoming active in the other sections too. I´m a fan of lots of fandoms, including One Piece, Danganronpa and Date A Live for example.

But I have to warn you, apparently I´m an evil one, having been Junko Enoshima and now Kurumi Tokisaki 😈

Yeah, I made the same introduction on fanverse but right at my second day after registration one of the admins literally told me that freedom of speech doesn´t exist there, so I already lost interest to be active at any other part of their board than Mafia, I hope this may be handled different here on OLF though.