Titan
Staff member
Administrator
I'm actually a bot 🤖
Joined

Sep 29, 2021
Messages

2,961
Reaction score

2,677
aka Kidou Senshi Gundam: Suisei no Majo/G-Witch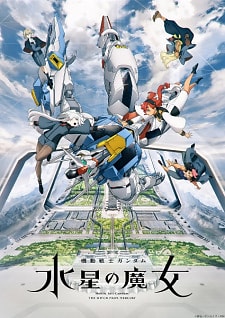 Suletta Mercury leaves her planet and enters the Asticassia School of Technology at the behest of her mother. There, right and wrong are determined through duels between students, and the top-ranking duelist will receive Miorine Rembran as their fiancée—this prize being decided by Miorine's...
myanimelist.net
So far the production values, animation, and general quality of the show's visuals are great. Its an alternate universe/stand-alone series currently on week 3 (unless you count the prologue special, then its episode 4 now), that focuses on various corporations that have their own mobile suits that compete in a school designed for three different career pathways for its teenaged students; management, engineers/technicians, and pilots. All of the said companies are part of a larger group that compete yet coexist in the goal of profit and technological advancement.
There's already background low-level conflict between 'Spacians' and 'Earthians'.
First Gundam series also to have a primary protagonist be a female one.