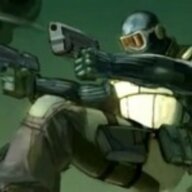 Joined

Oct 1, 2021
Messages

1,085
Reaction score

828
Somewhere in Massachusetts, Year 7 of the Post-Amalgamation era.


Inside a sleepy New England suburb, a Harley Davidson V-Rod rides low and slow across the streets, with its rider, covered from head to toe carefully handling his bike's throttle as not to awaken the neighborhood or draw any undue attention to himself, at least any more than what he's already getting as his ride isn't exactly something one would usually see in a place as dreadfully dull and stereotypically peaceful as this. At the very least it was mostly the glances of snot-nosed brats or old farts that he was attracting and not some teenagers who would honestly just complicate things if they decided to trail him like the turbo-revving punks that they are.
As he scanned row upon row of maddeningly similar houses, with each building slowly blurring and blending together into the background, forming an endless plain of whites and greys that was perfectly flat and ordered, unnaturally so; as if he was riding across a sea of clouds that neither moved nor thinned, for there was no wind, no life to move them... This place was honestly worse than any of the decrepit ruins or haunted tombs he had visited, those at least had that feeling that they were once alive and had majesty to them, not like this... Sterile hive. The rider, for the sake of his steadily-eroding sanity, makes a call on his handlebar-mounted phone to the one who had sent him to this hellish location. Anything to give his eyes cause to tear away from the mosaic of horror.
"Hey, Are you absolutely sure that he lives here?"
A slight pause as the caller responds, evidently through an earpiece as the phone's speakers were utterly silent.
"What if you're wrong and it's a different guy but with the same name? Unlike you, I actually met and interacted with him, and believe me when I say that he'd rather go face to face with the boss again than live in a place like this."
...
"Yes, I know people change as they grow up. But have you actually been into a suburb in person? You'd change your tune once you see this... Hell for yourself."
"Oh alright, but if I don't find him here, you better pay upfront. Oh and make sure you prepare a recording of yourself admitting that you aren't always right and-"
But then the biker's tongue gets caught in his throat as he catches sight of a blue-eyed Caucasian man with slicked-back dirty blonde hair parking an SUV into a driveway, the man was the very image of a white man; but that wasn't the problem, rather, the rider knew that face... One that he wouldn't ever forget... Struck dumb at resurfaced memories, his absolutely horrid luck, and the fact that he let the guy on the other side of the line get one over him again, the rider sucks in air through his teeth before at last responding.
"You're
despicable
..."
Ending the call then and there, totally because the prize was right in front of him and not that he didn't want to hear from the guy on the other side of the line, no siree, the rider carefully approaches as the blonde gets out of his SUV. Creeping closer up until the man was in the middle of the lawn, the biker then loudly whistles to get his attention; just as the hog comes to a stop right by the sidewalk.
The man turns to the hog-riding hellion with a look of exasperated confusion, he didn't order anything, nor did his girlfriend. Could the rider be lost or something? But then all the color on his face drains upon hearing what the rider had to say...
"Hey Rad that you?! It's been a while!"
Despite the friendly tone of the biker, there was a clear undercut of malice and contempt in his voice; his voice... Bradley "Rad" White knew exactly whose voice that was and he knew that the
thing
that had that voice was supposed to be dead...
"Oh god, oh god!!!"
Not even thinking, Bradley bolts towards the front door of his home as fast as his legs could carry him; only to be stopped in his tracks by a deafening thunderclap... And his world devolving into pure agony as his right knee exploded into a shower of blood and bone, sending him rolling across the lawn. Staring in stupefied horror at the bloody stump and the...
Thing
pointing a smoking shotgun at him, all Brad could do was scream.
"Gottem."
Stepping off the hog as he twirled the shotgun's lever in a way much like that of a certain robotic assassin, biker leisurely strolls towards his victim, who was now desperately crawling to the door before putting a stop to that by shooting his hand off, earning him another round of screams before rolling his victim over with a firm push of his boot. He wanted this filthy animal's last sight to be him and him alone...
"Unicron sends his regards."
A final thunderclap, then followed by a thin trail of smoke remained transfixed on the air as the shotgun was thrown into the grass, in short time witnesses slowly stumbled upon a scene of horror that would shatter their dreamlike peace forever all while the roar of a hog echoes across suburbia like a dirge...
SUPER ROBOT WARS: CALAMITOUS DAWN
April 1st, 0010
P.A Thalerhof airbase, outskirts of Styria, Austria
1325 hours
16°C | 60.8°F Weather: Clear
---------------------------------
"-And with the brazen and heartless assassination of Bradley White was the fall of the United States assured-"
The TV was suddenly shut off by an NCO.
"Hey! I was watching that!"
"Turn that shit off rookie, that's clearly sanitized propaganda by those twits from BBC. Damn tommies hate America to the point of looking dumb. And besides, your break's over; get back to it."
"Right Sargeant..."
With that, the rookie rejoins the ranks of trainees and reservists as the base trudges towards its early afternoon routine, the men and women appropriately dressed to ward off the spring cold attempting to crawl into their skin begin their monotonous firing drills under the watchful eyes of instructors, calibrating their aim and to grow accustomed to their weapons with coordinated training on the shooting range, as well as running through physical conditioning and exercises on the practice field. Meanwhile, on the interiors of the base, members of the Austrian Luftstreitkräfte undergo their own type of training: Simulations and G-Force resistance drills. All to ensure every single enlisted soldier inside, combatants and rear-echelon troops alike, were battle-ready at a moment's notice. A grim necessity in times like these and any time wasted cannot be afforded.
The base commander's office was clean, organized, and maintained, to regulation standards at the very least. The very man himself in the task of overseeing the air base's operations, Colonel Steiner sat in his office, going through the reports written and provided by his subordinates with a rather bored expression. As unexciting as his task was, he honestly wouldn't have it any other way, better the boring and predictable over the uncertain and chaotic as he always liked to say. But as he goes through the paperwork, one particular report caught his eye, causing him to cock an eyebrow in interest.
"A demonstration of a new-model machine in a few days hosted by... Rayleonard?"
He knows the name well, as a matter of fact; some of his peers and a lot of his superiors really wouldn't shut up about it. They were a rising star in the military-industrial complex, having made a lot of waves with a new method of processing and exploiting G-Elements for the generation of cheap, accessible energy in wake of Nuclear Fission made no longer feasible by those damned "N-Jammers" but more importantly: The development of what the company claimed; rather arrogantly in his own opinion was: "The only mech mankind would ever need."
Having seen some of the articles and a few classified test recordings of this newfangled "NEXT" mech, he really didn't see what the big deal was. Sure they were fast and had way more energy to spare than even the most souped-up Valiancer model thanks to a G-Element fueled generator, but to say that those things would be the new universal fighting machine? Sorely reminds him of the Wunderwaffe of the 2nd World War: Way too optimistic and ambitious. As he reads the report, it seems that the top brass doesn't seem to share his opinion as there were some real bigshots from the various member nations of the FPA coming to visit his little slice of heaven to watch Rayleonard's shiny new toy in the coming days.
Being getting way too absorbed into the report, it was easy for Steiner's adjutant to surprise his superior when a winded Lt. Orban came barging through the door. There was no real rush, so why did the lieutenant even bother moving at such a pace? Orban's lips moved, his jaw swung back and forth in a feeble attempt at speech. But the man was excessively winded and little more than gasping gibberish came from the depths of his throat.
Col. Steiner raised an apprehensive hand without having his reading gaze leave the report. "Calm down, soldier. Take a moment to breathe. What's the hurry?"
Orban waved a dismissive, waving hand into the air. "Ah, sir! I was on my way to deliver my report but one of the guys tripped my foot. I stubbed my toe into the wall and-"
Steiner interrupts the lieutenant with a second apprehensive hand. The colonel's foot mildly pushed against the floor, causing the beam of his office chair to spin back and forth in both directions of the clock. The room went silent long enough for an awkward silence to settle, except for Orban's loud, deep breathing. Such awkwardness failed to sink into Steiner himself, who was still semi-absorbed into the report.
"Out with it, lieutenant." The colonel demanded, breaking the silence at last.
"Sir, it's gonna be here in an hour."
"What is?"
Orban blinked twice in confusion. "... The Rayleonard demonstrator unit to be tested in a couple of days."
Steiner's forehead, and his brows by extension, frowned in response to this new information. The man finally slammed his report face down on his desk and directed his full attention to his adjutant.
"And why are you telling me this just now?!"
"I uh... I told you a couple of days ago, sir! You even said that you got it!"
Steiner's eyes rolled towards the floor as the man attempted to draw such a moment from memory. Did he really say that? Was it his brain switching into autopilot? Rubbing his temples in irritation, the Steiner loudly sighs to help with the growing headache.
"Mein Gott... Well, no use crying over what's past. Tell the techs to get a hangar ready for our guests."
"At once Si-"
"-The one furthest from the rest of the base. I don't want to hear about any of my men growing an extra finger or something standing too close to one of those things."
"It will be done, Sir! Oh and the air traffic control just got word of a few UN contractor planes inbound for the base, should I-."
"Yes, yes get the reservations ready for the mercs too. I'd have thought you'd have gotten used to how this place runs already."
"O-Of course sir!"
With that Orban finally leaves.
"Kid's way too eager for his own good..."
Steiner then looks over a stack of papers over on the side of his desk, a bunch of registration documents for UN contractors coming and going from his base, or as he liked to call them: Hotel booking forms.
"Maybe I should've just gotten that course for hotel management, could've been paid better for doing the exact same thing I'm doing nowadays..."
---------------------------------------------------------------------------------------
Unknown Date
Unknown location
Early Morning?
Unknown Meteorological data
---------------------------------
It is dark, cold and silent. You do not know how or why you got here, but before everything went black, all you remember seeing is... Everything. And also Nothing... It was difficult, if not impossible to describe or even visualize what you had witnessed, perhaps your mind was not capable of truly comprehending what you had seen. But somehow, you know deep within, in your soul that, what was seen, was something not meant to be seen, even if you don't truly remember or recognize what it was.
But then... The Darkness slowly gives way, as Light began to rise beyond the horizon, heralding the dawn. And with the light comes clarity and noise. Everywhere the light touched: A smudge of yellows and brows of sand and stone and dust, the howling of the dry wind eerily echoes over the vast expanse and the light above, the blazing sun; quickly banishes the cold away, replacing it with harsh, choking heat.
This is indeed a desert... But one you've clearly never been to. And
how
did you get here even?
Last edited: