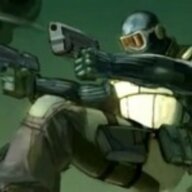 Joined

Oct 1, 2021
Messages

958
Reaction score

710
William Liam Tinmall
<<<Ø>>>
Liam blinked as he noticed Asaga once again, blushing at his loss of spacial awareness, but he kept talking, the flow of thought firm and steady now that he was talking about something much more his style.

"Not exactly. I'm an experimental physicist, my doctorate was on the study of space radiations and the exotic particles only found there. This was most of an accidental application really, and I don't like creating Mobile Suits for the purpose of war."

The scientist placed a hand on the Gundam's foot, thinking about all the applications that his technology could offer, but that he had to wait because people thought they knew better.

"However, now we don't have to deal with fighting just other mobile suits anymore. Maybe I can help your engineers, compare notes?"
What Liam had to say slightly deflated some of Asaga's eagerness, the look she was giving the scientist making it clear that she thinks that she isn't capable of catching up and holding a conversation with him.
"Well, I like me some mechs, but not so much the engineering and sciencey stuff that comes with it. Math is eeeeevul..."
To get her point across further, the redhead makes a strange expression while waving her fingers in a manner she believed was threatening.
"However, Chigara over there-"
Asaga then points to the bluenette, who looked a bit startled at the spotlight suddenly being beamed down upon her.
"Will be more than glad to hear your theories and such out. Now if you'll excuse me for a sec... Come on over here Chigs! I found me an intellectual equal for you!"
"P-Please don't call me that!"
Yet despite her clear hesitation, Chigara was already approaching the other pilots.
"I see, I was pulled from 201.M42, after the end of the Indominitus Crusade. Quite a lot has happened in a mere 2 centuries compared to past millennia, even beyond Inquisitorial Censorship. Cadia Secundus fell, the Galaxy was torn in half by a new Eye of Terror. Only the return of the Omnisaiiah's Avenging Son, the Primarch of the 13th, as the Lord Commander of the Imperium, was the situation barely stableized."
Both Cadbury and Sorell looked at Valrin, with wide, shocked expressions as if he suddenly grew another head. They were silent for some time before the Stormtrooper breaks the ice, his tone carrying with it scorn and disbelief.
"So the arch-traitor's bastard actually did it..."
"A new eye of terror... That explains our situation then. A warp storm of such potency and horror that it killed our Navigator on the spot."
And then Sorell capitalizes on the last bit the Knight Scion said.
"You also say a Primarch walks among the Imperium again? The 13th? The scion of the Ultramarines?"
Cadbury however, takes news of the development with a bit of dry humor.
"Guess the 41st millennium really lived up to its epithet. Time of Ending indeed, hopefully of its decline!"
Last edited: