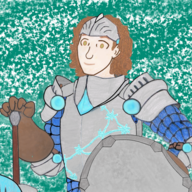 Joined

Oct 7, 2021
Messages

48
Reaction score

16
The officer once again writes down Liam's testimony with nary a sound.

"We'll see if your story checks out soon enough, but we're getting out of track. The real question is: What happened to that crashed ship and how did it get to the point that it had to be scuttled in such a manner? Detonating a nuclear fusion reactor on a planet's surface would make its inhabitants very nervous and the Ceran people want prompt answers."
William Liam Tinmall
<<<Ø>>>
At that question, Liam visibly gulped, still unsettled by what he had to endure inside the hangars of the ruined city-sized ship, as well as what Valrin showed him in his mind.
The feeling of
wrongness
, a building disgust for each and every one of the four kinds of demons... it was too much.
"The soldiers described it as a memetic hazard, something that can cause harm just by virtue of knowing it. However, I believe that people should know the dangers ahead, because going against something which you know nothing about is a foolish endeavor... so... Great Scott, please give me a moment..."
He took a breath, then a second, and even then he didn't manage to calm himself. that laugh as they descended on the downed soldier.
"The simple answer is demons. Or a lifeform that closely mimics what we as a species call demons. Some of them even closely resembled classical descriptions, while others were more... esoteric. Still, they said that more will come if they were left to fester, so that is why they called to bomb the site. A shame, I would have been overjoyed to work on that ship, even if I think that the size was a bit much."