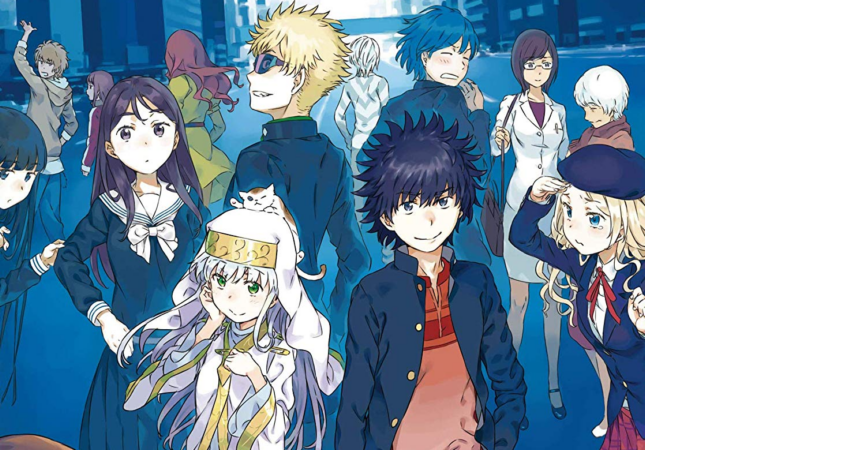 Toaru Majutsu no Index
(とある魔術の禁書目録インデックス
Toaru Majutsu no Indekkusu
?
, lit. "
A Certain Magical Index
"), is a Japanese light novel series written by
Kamachi Kazuma
and illustrated by
Haimura Kiyotaka
; the series is edited by
Miki Kazuma
, designed by
Watanabe Hirokazu
and published by
ASCII Media Works
under their
Dengeki Bunko
imprint since April 2004.
The light novel series has been adapted into an
anime series
, which was animated by J.C. Staff. There are currently three season, with the first season airing between October 2008 and March 2009, the second season between October 2010 and April 2011, and the third season between October 2018 and April 2019. The series has been also adapted into an ongoing
manga series
, which began serialization in
Monthly Shōnen Gangan
in April 2007.
The light novels span for twenty-two volumes in the main story and two sidestory volumes, after which the series was released under the title
Shinyaku Toaru Majutsu no Index
(新約 とある魔術の禁書目録インデックス
Shinyaku Toaru Majutsu no Indekkusu
?
, lit. "
A Certain Magical Index: New Testament
") with twenty-three volumes bearing this title. A further continuation, titled
Souyaku Toaru Majutsu no Index
(創約 とある魔術の禁書目録インデックス
Sōyaku Toaru Majutsu no Indekkusu
?
, lit. "
A Certain Magical Index: Genesis Testament
"), began publishing on February 7th 2020.
[1]
Toaru Majutsu no Index
is set in
Academy City
, a technologically advanced city located in
western Tokyo
which studies scientifically advanced superhuman students with powers, but is also set in a world where magic is real.
Kamijou Touma
is a high school student in Academy City, with a power called the
Imagine Breaker
that can negate all magic, psychic, and divine powers, but also his own luck. One day he finds a young girl named
Index
hanging on the balcony railing of his dormitory room. She turns out to be a nun from the
Anglican Church
, and her mind has been implanted with the Index Librorum Prohibitorum — 103,000 magical texts that contain a wealth of information about magic. His encounter with her leads him to meet others from the secret world of science and magic and an adventure with his friends where science and magic collide. Touma's unusual power places him at the center of conflicts between
magicians
and science-based
espers
in Academy City. As Touma tries to help and protect his friends, he learns the people he knows are not as they appear and begins to attract the attention of magicians and espers alike as they try to unravel the secrets of Academy City and Index.
Warning: Series is filled with early 2000s fanservice humor, ecchi, and harem tropes, which aren't really that good or funny. If you can't ignore the bad jokes this series probably isn't for you.
Volume 1:
1
,
2
,
3
,
4
,
5
Volume 2: TBA
Volume 3: TBA
Volume 4: TBA
Volume 5: TBA
Volume 6: TBA
Volume 7: TBA
Volume 8: TBA
Volume 9: TBA
Volume 10: TBA
Volume 11: TBA
Volume 12: TBA
Volume 13: TBA
Volume 14: TBA
Volume 15: TBA
Volume 16: TBA
Volume 17: TBA
Volume 18: TBA
Volume 19: TBA
Volume 20: TBA
Volume 21: TBA
Volume 22: TBA
Volume 1: TBA
Volume 2: TBA
Volume 3: TBA
Volume 4: TBA
Volume 5: TBA
Volume 6: TBA
Volume 7: TBA
Volume 8: TBA
Volume 9: TBA
Volume 10: TBA
Volume 11: TBA
Volume 12: TBA
Volume 13: TBA
Volume 14: TBA
Volume 15: TBA
Volume 16: TBA
Volume 17: TBA
Volume 18: TBA
Volume 19: TBA
Volume 20: TBA
Volume 21: TBA
Volume 22: TBA
Volume 22R: TBA
Important Links:
To Aru Majutsu No Index Old Testament Baka-Tsuki Translations:
http://web.archive.org/web/20140804...roject/index.php?title=Toaru_Majutsu_no_Index
To Aru Majutsu No Index Old Testament Official Yen Press Translations:
https://mega.nz/folder/vuIWAQpA#VCvYdb6lOAatLKcakGiN6A
To Aru Majutsu No Index New Testament Baka-Tsuki Translations:
https://www.baka-tsuki.org/project/index.php?title=Toaru_Majutsu_no_Index:_New_Testament
To Aru Majutsu No Index Genesis Testament Baka-Tsuki Translations:
https://www.baka-tsuki.org/project/index.php?title=Toaru_Majutsu_no_Index:_Genesis_Testament
Subreddit:
https://www.reddit.com/r/toarumajutsunoindex/
Discord:
https://discord.gg/raildex
Wikipedia Page:
https://en.wikipedia.org/wiki/A_Certain_Magical_Index
Fandom Wiki:
https://toarumajutsunoindex.fandom.com/wiki/Toaru_Majutsu_no_Index_Wiki
OutskirtsBattleDome Wiki:
https://outskirtsbattledomewiki.com/index.php/14-fiction-profiles/4599-toaru
Calc thread by
@Top59
:
https://www.fanverse.org/threads/toaru-feats-calculation.1231745/
Shoutout to
@Mr.OMG
for his Toaru Feats Thread:
https://forums.spacebattles.com/threads/to-aru-majutsu-no-index-feats.968510/
Last edited: